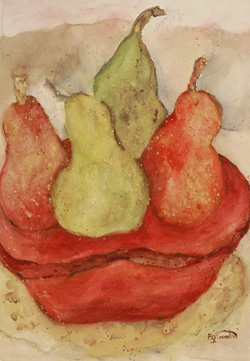 Just Pears (2003) - View Gallery

Philosophy:

My watercolors are from my heart. Some days I am drawn to painting realistically. I might feel compelled to capture a still life as in "Just Pears" or paint en plein air' creating a "Lynnette's Garden". Other times, I begin painting abstractly without a set idea, using technique and intuition to guide me. The painting then presents itself as in "Misty Mountains".

Whatever the interest of the day, if the painting causes me to feel happy about life, then I've done good work. Hopefully, that happiness spreads to someone else, and the painting evolves from good work to good energy.

And, then there are those times when deeper work and meaning are necessary to answer the questions in my heart. These are the times when Expressive Art is the key, I use to unlock the mysteries of my Soul. Through meditation, movement, journaling and a variety of mixed media I create to answer my deepest questions, heal old and new wounds, and express my joy creating a collaborative "Sophia".

Over the years, I have explored other mediums through art classes. I very much enjoy creating in a group setting. I am learning to create with oil pastels. Pastels require me to be more detailed and precise and create on a smaller scale such as "Tulips". It's good to challenge yourself from time to time, and creating with oil pastels certainly challenges me!

My current favorite medium is mosaics. Time seems to stand still during this creative process and before I know it, hours have passed. My creations in mosaic show more of my spiritual side. I find this art medium to be peaceful and therapeutic. An example of this work is "Mary Star of The Sea".

I feel very blessed to have the time in my life to create, whether alone or in a group setting. I am content creating alongside my granddaughter or with a group of multi-aged adults. Age has no boundaries in art, there are no exclusions.